I have to admit that the polls look good going into this election, but you have to keep in mind that polls do not take into consideration cheating. Republicans have made their election strategy clear: They're willing to do anything to win this election (except get the most votes).
We've already seen voter intimidation encouraged by the President; fake mail-in drop boxes set up to steal ballots; the closing of precincts; forcing people to drive hundreds of miles to drop off their ballots; and numerous lawsuits having the prime purpose of making sure the will of the people is not heard.
The only way to counter all this is with a massive vote that overwhelms all the tricks they are using.
But to the polls: Some people are saying "Yeah, Biden is ahead, but so was Hillary at this time." That's only true in certain places. Overall, Biden has been ahead of Trump consistently, which is unusual in a Presidential campaign. Here, look at this (from Real Clear Politics):
Trump has never hit a 50% approval rating as President. His highest scores are still lower than Obama's lowest scores. His following is limited, and it's even less this time. Some of those who supported him last time are abandoning him now, and he hasn't appealed to any new voters.
But what about four years ago when we all said the same thing? Here's how it looked then:
So what happened? Some of it was polling itself — many people didn't want to admit they were voting for the racist incompetent idiot and wouldn't tell the pollsters. Some of it was us being so confident we didn't all get out and vote. Some of it was our terrible Electoral College (because, after all, the polls showed her ahead by 3% and she did get 3% more than Trump, just not in the right states). And some was the fact that Clinton, unlike Biden, started out with negative ratings and never really appealed to many voters.
But this time we're ready and voting — but so are the Trump people. And they're cheating. So don't get complacent and don't get comfortable. Vote!
(According to fivethirtyeight.com, this is what the Electoral College results would be if the election was held today and all the polls were completely accurate:)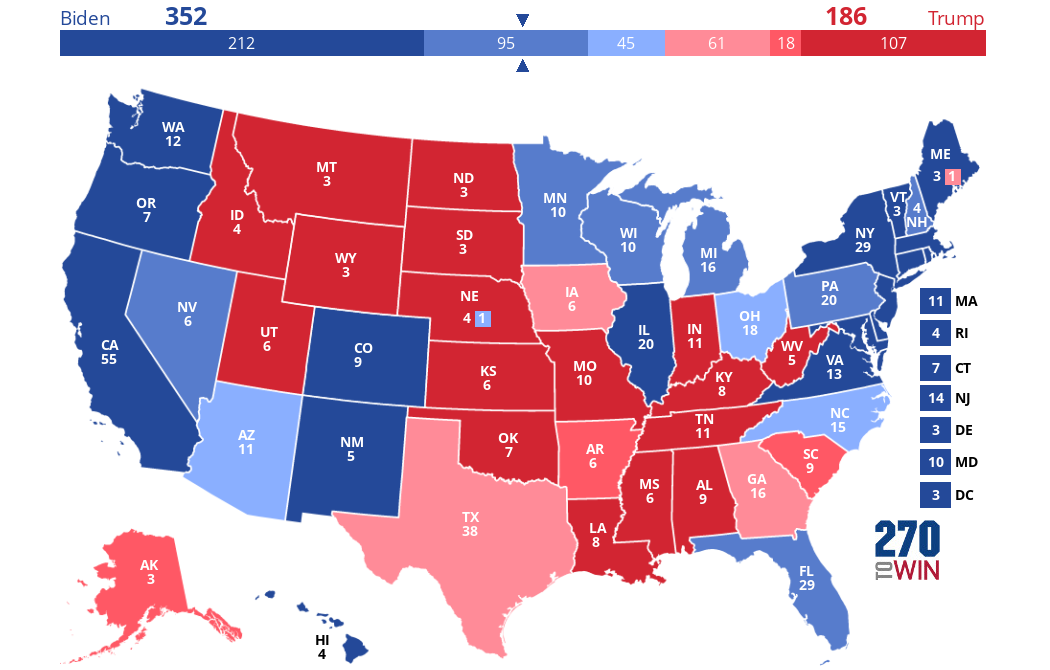 Click the map to create your own at
270toWin.com